Ride Across Wales
The ultimate experience; The X-Wales ride is a 6 day ride from the English border to the welsh coast over approximately 95 miles of absolutely wonderful country And climbing 15000ft (4570m); the equivalent of 3 1/2 times up and down Ben Nevis or up and down Snowdonia 4 times.
Up until 2020 we rode a 6 day route (or 11 for folks who wanted to ride there and back!)
We hope to be able to offer this ride again post COVID.  The route will need reviewing when we can re-open as at the moment we do not know what the accommodation situation will be along the trail .. If you would like to ride across wales in the future please let us know and we will keep you informed of progress as and when we are able to re-offer the route.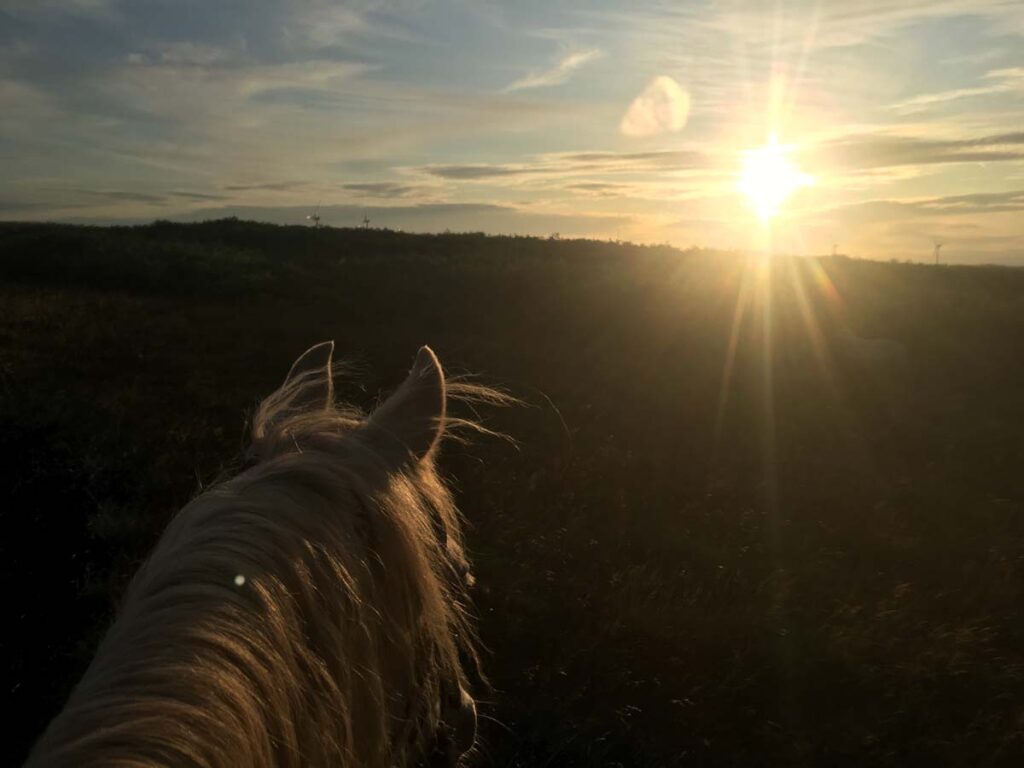 The X-Wales ride is a 6 day ride from the English border to the welsh coast over approximately 95 miles of absolutely wonderful country And climbing 15000ft (4570m); the equivalent of 3 1/2 times up and down Ben Nevis or up and down Snowdonia 4 times. The mileage is between 14 and 17 miles each day. A mileage that is nothing in endurance terms perhaps but with much of it being unmarked and some of it over tricky terrain and wild country this ride is more of an expedition. You do need to good map reading skills even with digital mapping and your route pack.
Throughout your ride you are likely to see Red kite, Buzzards, wild ponies and of course plenty of sheep. It is quite possible however to not see another person for a whole day other than your hosts, and you only have 3 main road crossings! The ride finishes with a fabulous beach day, a short tide to the coast and a day at the sea.  It is more than possible to extend your holiday with a mid-ride mini-break or turn it into an 11 day ride by riding all the way back too, as some intrepid explorers have done.  It rides totally differently in reverse offering a different perspective on the Cambrian Mountains, with the added bonus of saving you the journey back from the beach.h minimal road work; hills at their best; wild without being rugged, steep here and there but with the reward of being flat topped with wonderful grassy paths.  This little-known part of wales with its array of bridlepaths, open moorland and old drover's trails is a trail rider's paradise.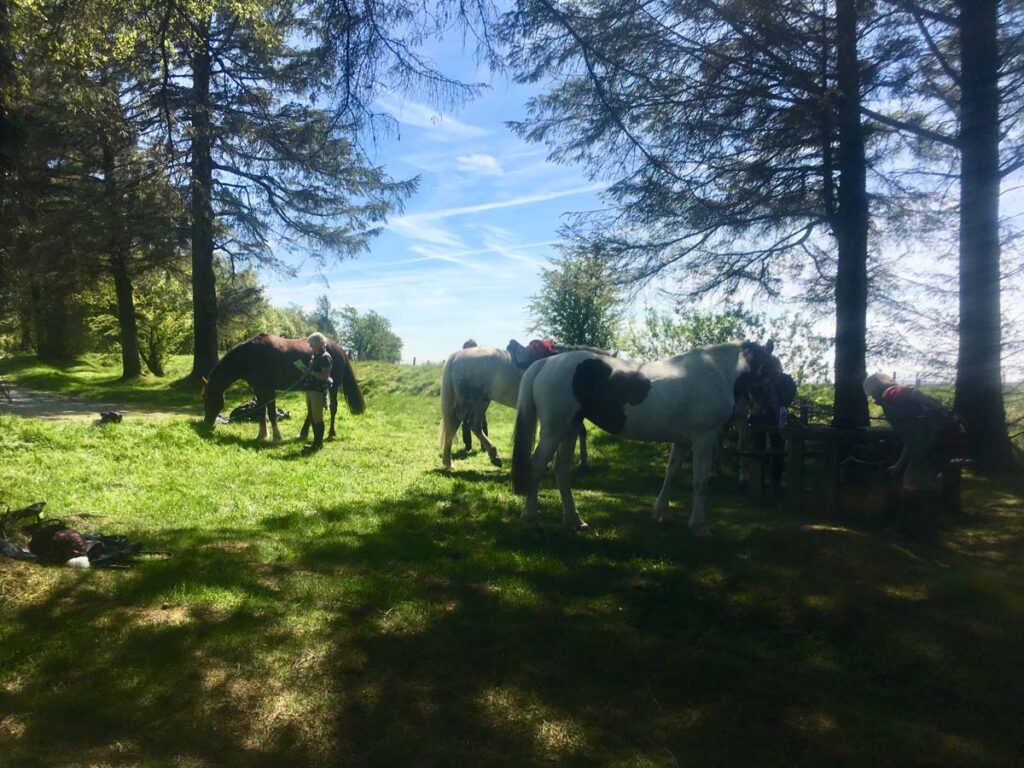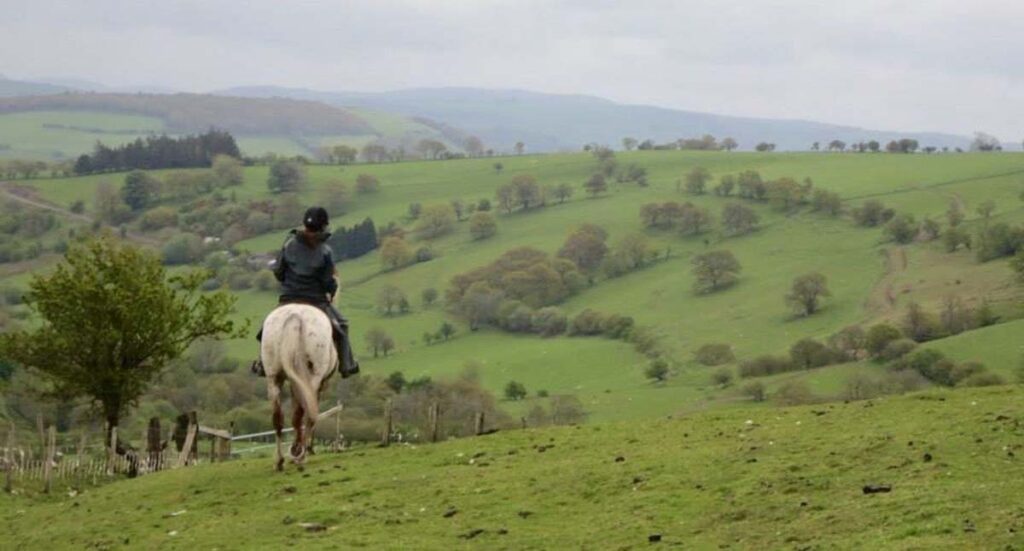 On your day of arrival, we recommend that you allow enough time (approx 5 hours) to settle your horses at Brandy House and then to take your vehicle to your last nights' livery.  On your beach day then you can ride without all your kit and also back to your vehicle where you can either depart home or return to the Brandy House for one last night. (some guests arrange for their own transport to meet then on the beach at Ynyslas Nature Reserve or hire a horse transporter for the return trip to Brandy House)
To access the beach the tide needs to be low, so this ride is only available when the tide times suit.
We have been exploring, walking, riding and negotiating the route for 10 plus years. It is ever evolving as it weaves its way through remote countryside and we work passionately and tirelessly to keep the route open and ridden. We offer you the benefit of our experience and knowledge of the area to bring you the best possible routes we have found and that are currently rideable. You will stay with some wonderful hosts who we value tremendously not only because of their locations but because of the service they offer you our guests and your horses.
Disclaimer: Distances are approximate and routes constantly evolving and subject to change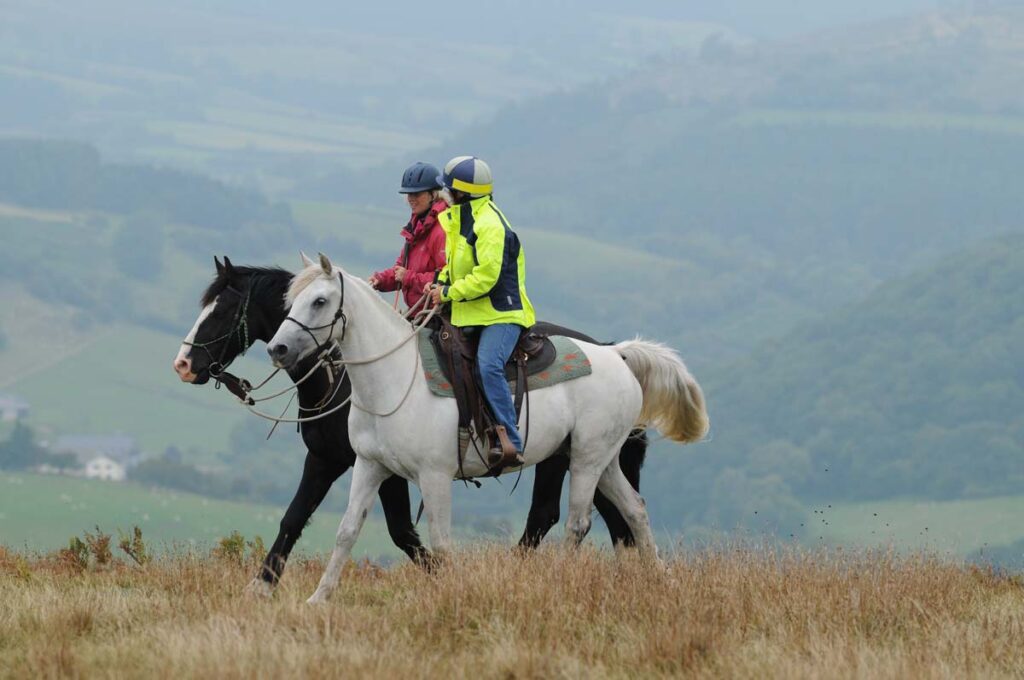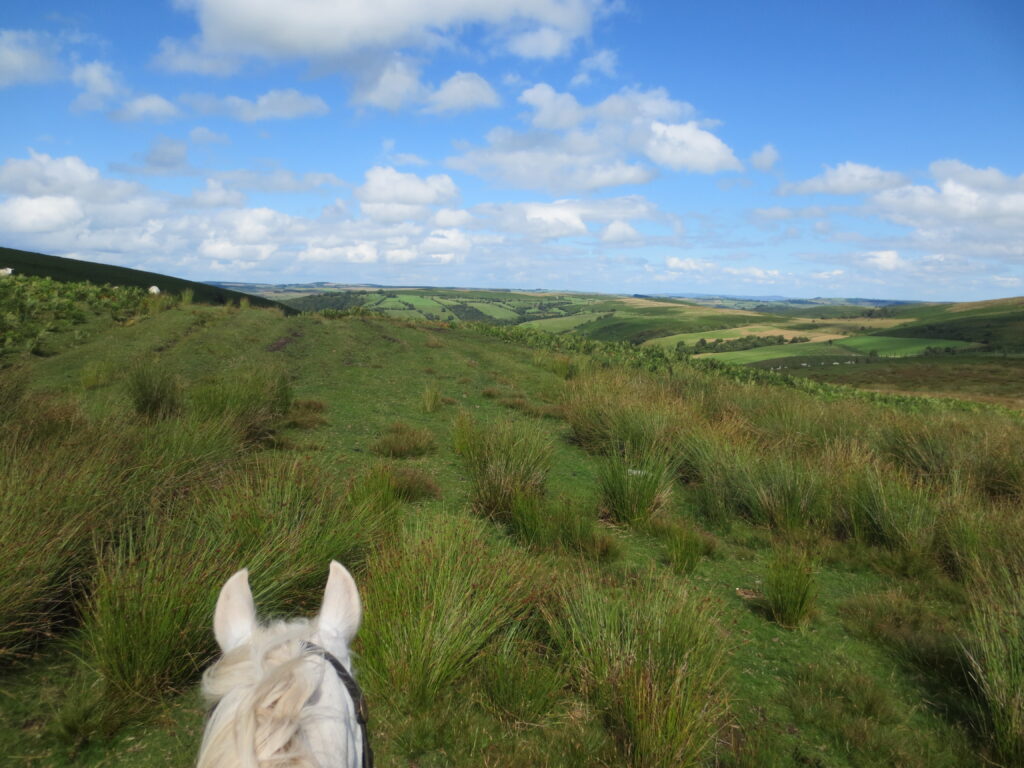 A mixture of open hill, old tracks, high ridges and rolling countryside to your first nights' accommodation; a lovely country house B&B where your hosts will either cook for you or run you to the local pub for your evening meal
Climbing approx. 2425 ft (740 m) & descending 2459ft (750m)
Using permissive routes over some lovely country joining parts of the Glyndwr's way, past the historic Marshes Pool and into the village of Llangurig with an overnight pub stop.
Climbing approx. 2789 ft (850m) & descending 2785ft (849m) so ending up 4ft higher than you started!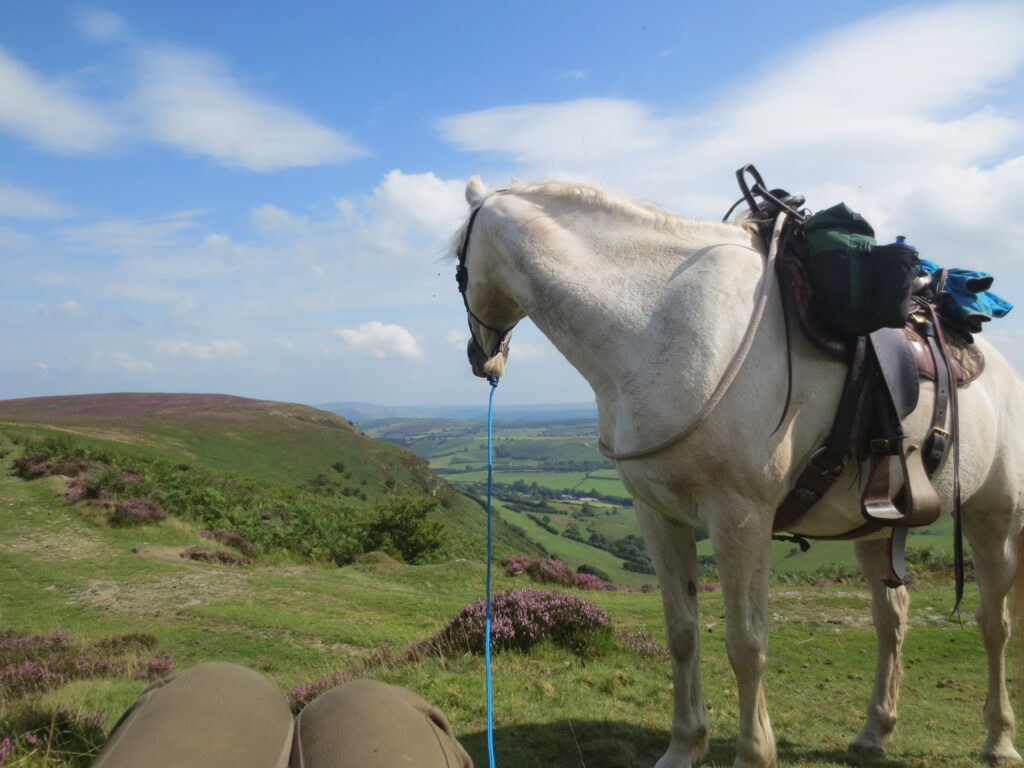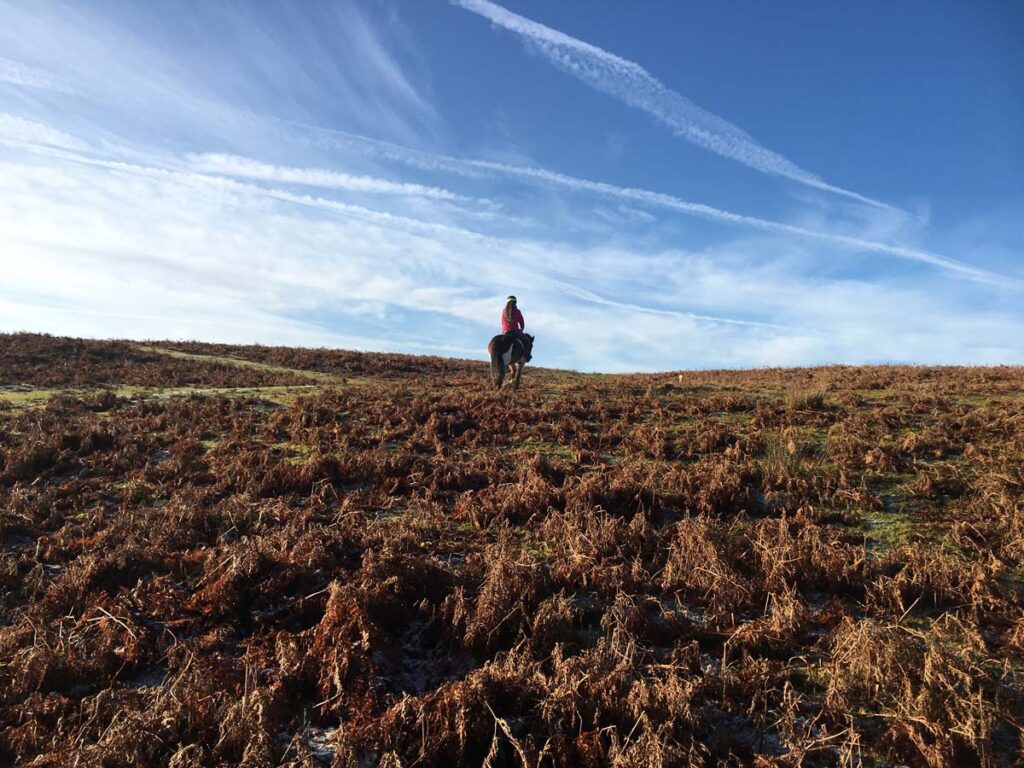 Your route will vary depending on whether you are stopping over in the Hafren Forest for a mini-break en-route. Either way you will be heading out; in and around the Hafren and on to the Plynlimon foothills over some beautiful and remote country.
Accommodation; either in a beautifully remote pub with sauna out on the trail or in the gorgeous Cwmbiga farm Cottages (2 night minimum stay) perfect for rest and recuperation and maybe a walk to the Osprey and Reservoir viewing point.
Climbing approx. 3050 ft (930m) & descending 2749ft (838m)
Over high country & spectacular ridges with stunning views as you continue your journey around the foothills of Plynlimon to stay the night at a traditional welsh hill farm
Climbing approx. 2766 ft (843 m) and descending 3479ft (1060m)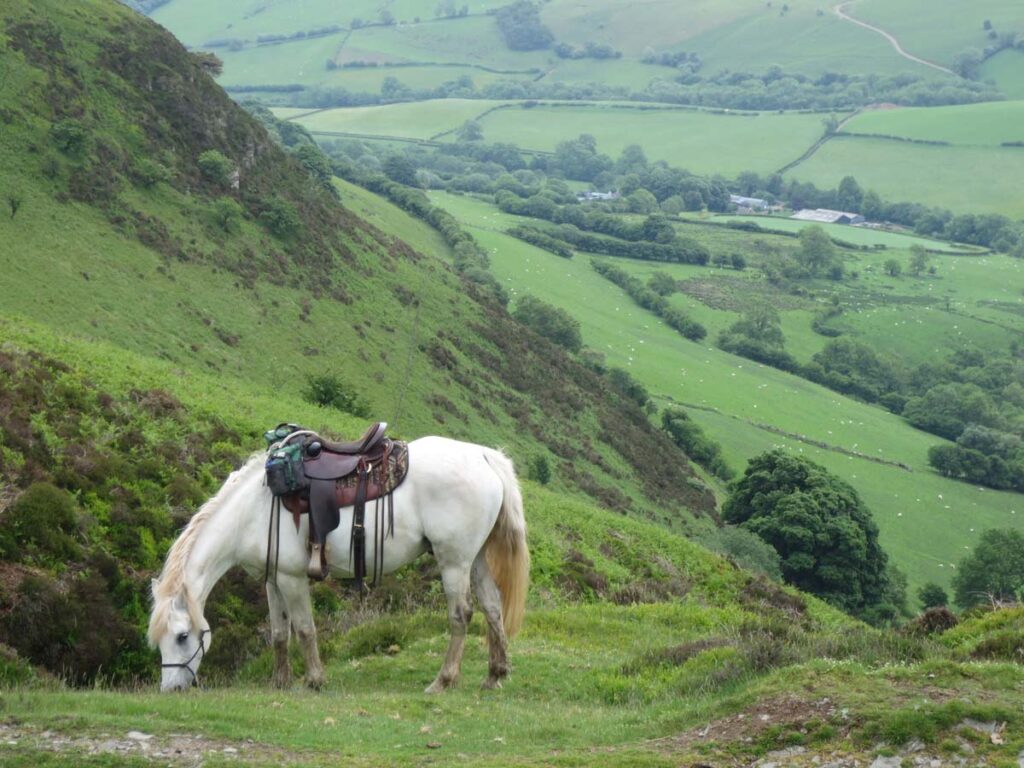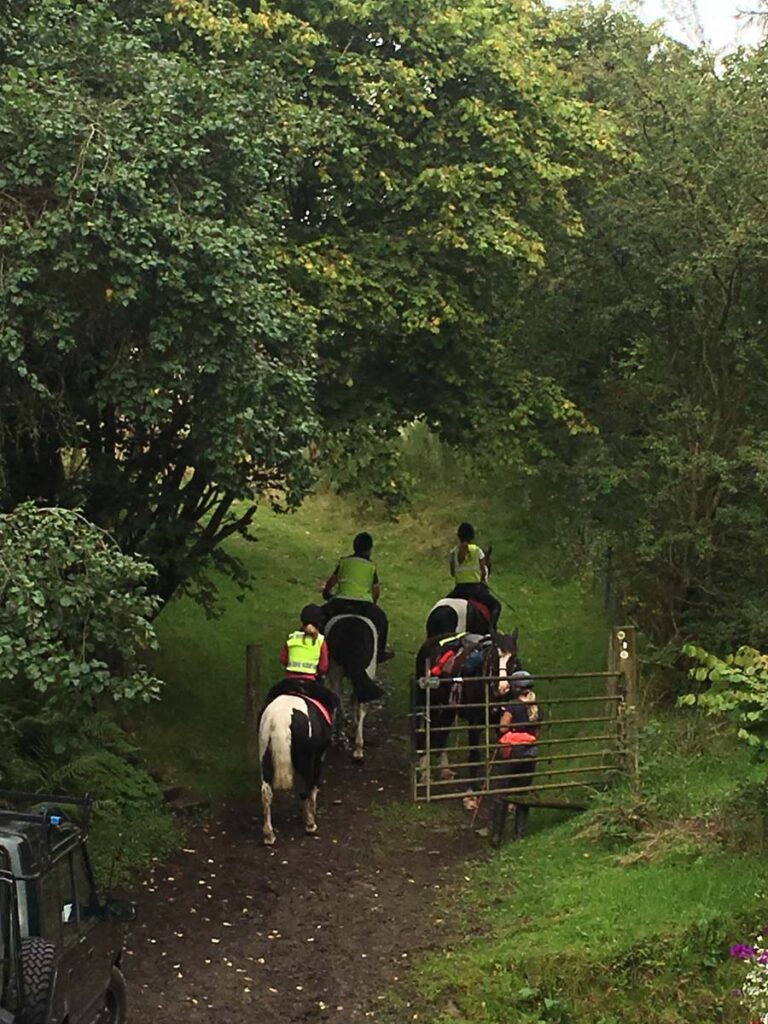 More stunning views as you continue up and down though spectacular hill country; you get your first glimpse of the sea on this day and maybe an opportunity for a penultimate celebratory drink as you pass through Talybont. Your horses will be staying at a livery yard with views of Borth and you will be staying at a local B&B.
Climbing 3253 ft (992m) and descending 3660 ft (1116m)
Day 6 – Beach Day 5-14miles (8-22k)
The beach at Borth is just 2 ½ miles (4k) from your livery or take a route via the pub at Talybont making it 8 miles round trip to the beach & back. The Beach is 3 miles long & if you're lucky there might be an ice cream van at the other end at Ynyslas – so you have plenty of options for a fabulous last day on the trail.
Climbing 723ft (220m) and descending 718ft (219m) if you do the circular route or if you take the most direct route to the beach & back 320ft (97m) and descending 318ft (96m).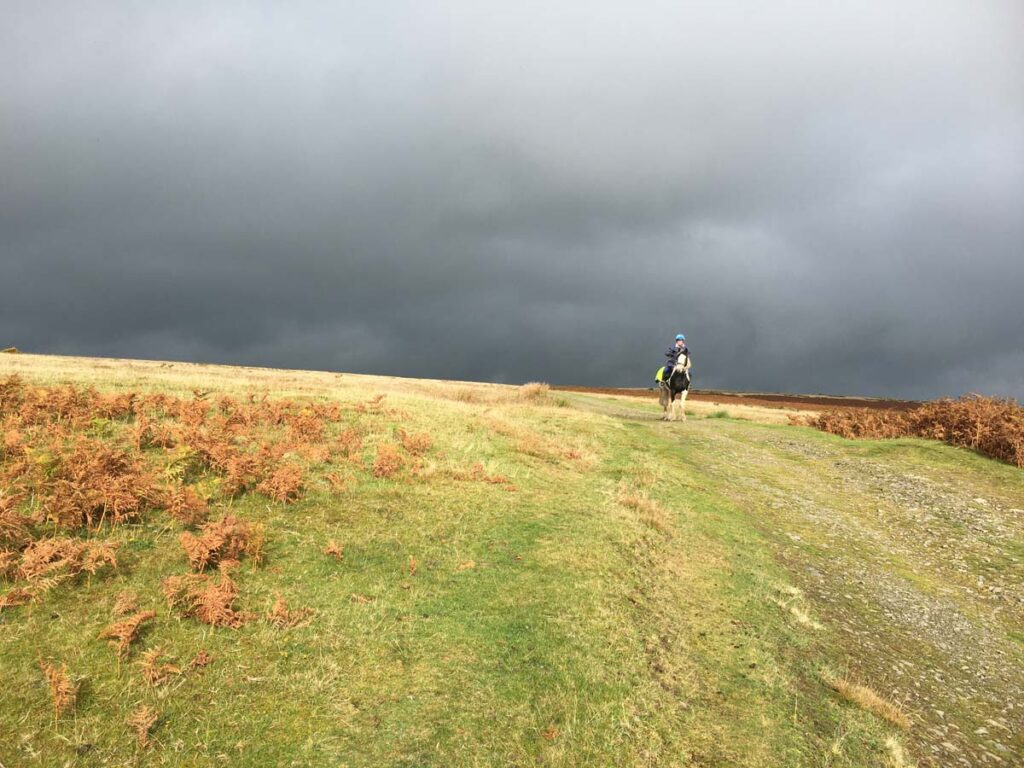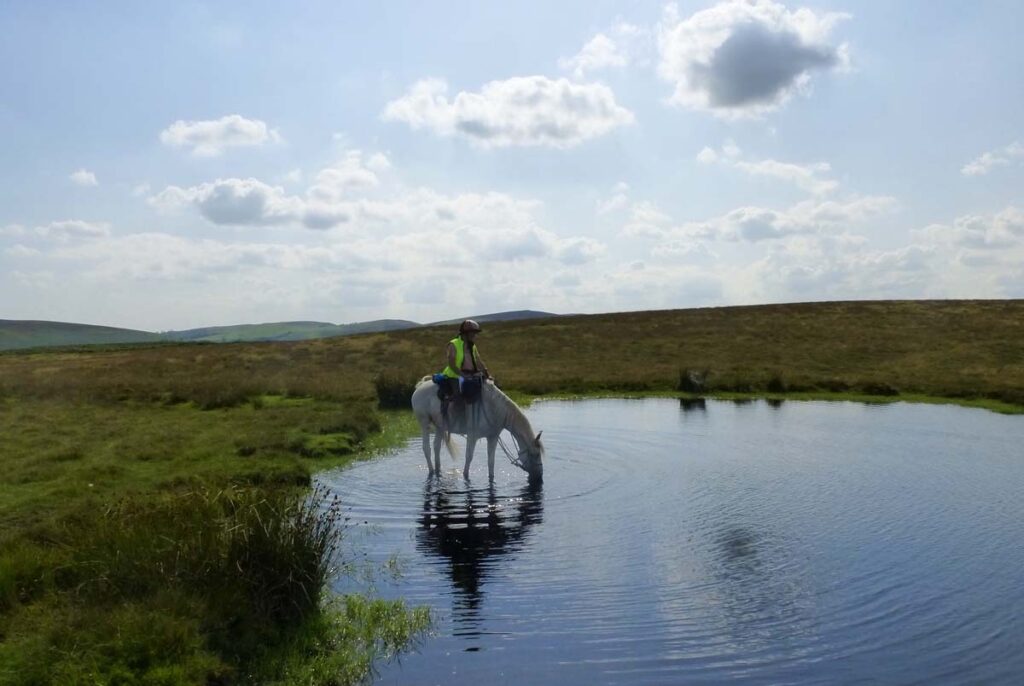 Day 7 – 11 – The Ultimate Experience
Retrace your steps back to the English border having ridden approx 170 miles of absolutely wonderful country. The route rides totally differently each way offering a brilliant 11 day trail.
Please contact us for a personalised quote based on your specific requirements and what we are able to offer.