The Area
This is a rural area in stunningly beautiful scenery and off the beaten track.  We overlook the valley of The River Teme which creates the border between England and Wales.
The surrounding area is ideal for exploring by foot, bike or horse. With our knowledge of the surrounding area, here at Brandy House we can provide you with a variety of routes to follow depending on the length and intensity that you want.
Our nearest towns are Knighton and Newtown. Knighton is a pretty market town; the only town to be built on the 1200 year old Offa's Dyke and where you'll find the Offa's Dyke Heritage Centre, our local tourist information centre which has an interactive exhibition that allows visitors to explore the Offa's Dyke. The town lies in the beautiful Teme Valley, cushioned by the green hills of Powys and Shropshire.
A little further afield you will find Clun, a rural gem in the South Shropshire Hills lying in a designated area of outstanding natural beauty close to the border with Wales in what is termed the Middle Welsh Marches. The thriving market town Ludlow with its famous castle and its reputation as a centre forsome of Britain's best food and drink is not far away.
Presteigne, Llandrindod Wells the victorian spa town, Builth Wells, home of the Royal Welsh showground, are all within a short driveaway and all worth a visit.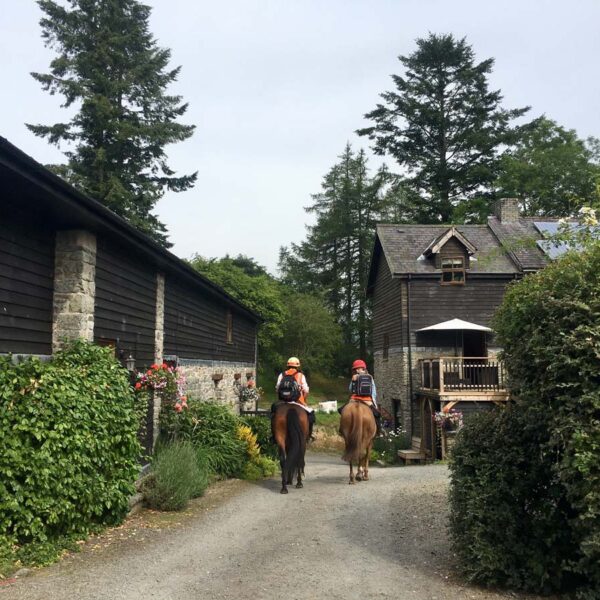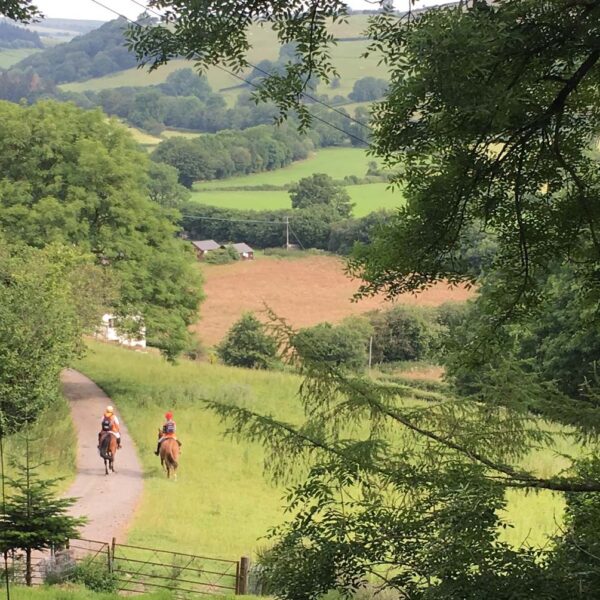 The Spaceguard Centre in Knighton is the only organisation in the UK addressing the hazard of Near Earth Objects and the threat of asteroid and comet impacts, the ways in which they can be predicted and dealt with.  They bring the wonders of the universe to everyone in a fun and understandable way through regular tours of the observatory.
Aardvark books and Café near Brampton Bryan is a giant bookstore with over 50,000 titles all at great prices and a lovely café serving home-made cakes.  Always worth checking out their website for details of events they hold throughout the year.
Discover how the Shropshire landscape evolved at the Secret Hills Discovery Centre in Craven Arms with 25 acres of walks a simulated hot air balloon flight.
Visit the dams and reservoirs of the Elan Valley estate before going to the Red kite feeding station at Gigrin Farm where you will see breathtaking feats of aerial piracy as red kites compete with buzzards and ravens for choice pickings.
Small Breeds Farm Park and Owl Centre just outside Kington is A magical place to experience animals, birds and owls.- perfect for the children.
Newtown is the largest town in Powys and is situated in what could be called the bellybutton of Wales. Newtown is a classic example of a market town built on the back of the textiles industry and the Industrial Revolution it benefits from a number of museums and educational resources, the Robert Owen Museum, the Textile Museum, the WH Smith Museum and the Oriel Davis Gallery are all in the centre of town.  Slightly further afield there is the Theatr Hafren. Other local highlights include the Andrew Logan Museum the celebrated performance artist/sculptor has a museum in nearby Berriew.
The Thomas Shop at Penybont 16 miles away is a delightful victorian village shop to visit … just as it always was, and with The Engine Room Café, (so called because it once housed a steam engine that powered the industrial Laundry for Llandrindod Wells, between 1905 and 1917), It has been refurbished to create a cosy and special atmosphere specialising in light refreshments for people visiting the Shop and Galleries. In good weather teas are served by the river or in one a distinctive living-willow pods.
The National Cycle Collection in Llandrindod Wells houses hundreds of cycles in period settings, including examples from 1819 through to the present day. It also displays rare components and accessories from this period.
Radnorshire's old Shire Hall in Presteigne, formerly the county court, is now the award-winning Judge's Lodging Museum where you can step into the 1870s to discover the world of a most unusual household. Explore the 'upstairs, downstairs' life of the Victorian Judges, their servants and felonious guests.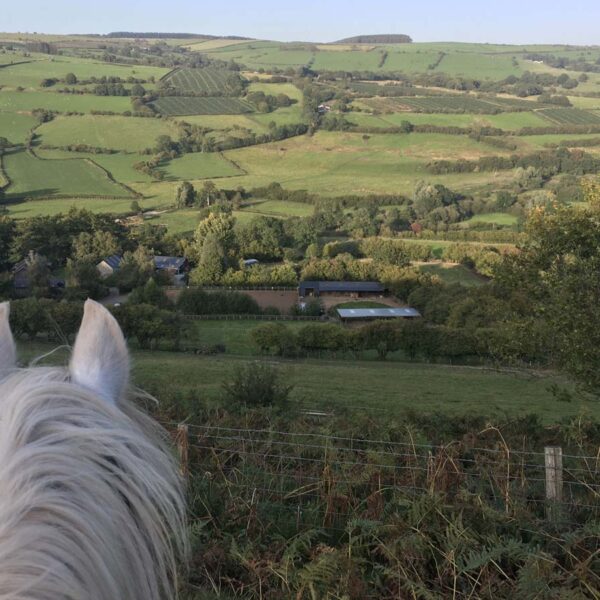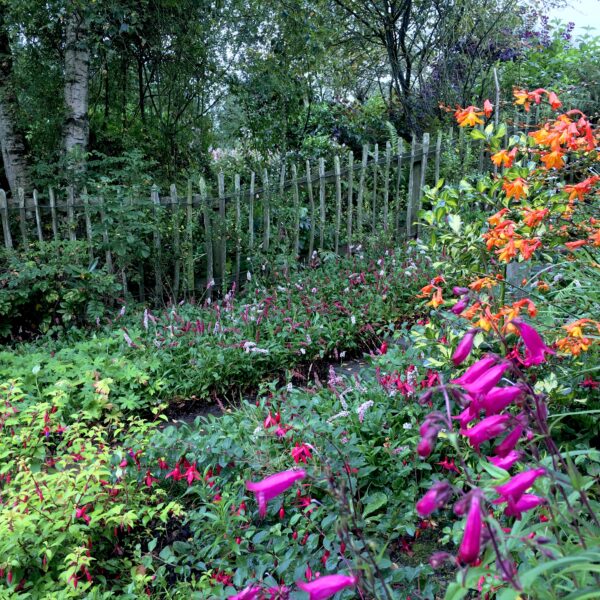 We are spoilt for choice with local gardens and nurseries to visit.  Check out the National Garden Scheme for private gardens open at specific times.
The Whimble Gardens and nursery just 16 miles away are tucked away on the south facing slopes of The Radnor Valley are richly planted gardens forming a subtle tapestry of colour throughout the season.
Bryans Ground also around 16 miles away offers the visitor 3 acres of intimate garden rooms that have been growing since 1913. Furnished with follies and fragrant flowers, towers and topiary, pools and a potager, and paths to five acres of specimen trees on the banks of a river, on the border with Wales.
Hergest Croft Gardens are 20 miles away in Kington and close to
Hergest Ridge – perfect for a walk! There are gorgeous flower borders,  An old fashioned Kitchen Garden, stunning Azalea Garden, Maple Grove, and Park Wood and with a Gift Shop and Tearooms the Gardens are the perfect place to explore and relax.
Gregynog Hall Gardens and walks set in 750 acres of grounds containing many different landscapes including Grade 1 listed formal gardens is considered to be one of the most important parks and gardens in Powys, dating from at least 1500s.
Glansevern Hall, with its 25 acres of glorious gardens and host to the rapidly growing Welsh Food Festival.
Golf
The nearest 18 hole course being Llandrindod Wells Golf Course best described as an "Upland Links" course provides a true test for golfers of all abilities.
Knighton golf course offers one of the best rounds of golf in central Wales. If you enjoy courses that are full of character, that have uphill and downhill lies and offer some of the most spectacular views you are ever likely to see on a golf course.
The 6012-yard course Newtown Golf Course is a challenging par 70 parkland style course which course uses the natural contours of the land to provide a challenging golfing experience rising and falling towards the River Severn.
Riding
Heart of Wales Riding School and Underhill Riding Stables both offer trekking and instruction for beginners and the more experienced.
Clay Pigeon Shooting
The Griffin-Lloyd shooting ground just 11 miles away offers a wide variety of clay target shooting facilities to suit your needs whether you are an expert shot wishing to stay at the top of your game or a complete novice looking to try something new and exciting.
Rally Driving
Phil Price's Rally School around half an hour away is the UK's leading rally school – Voted Best UK Rally School by Auto Express magazine for more than a decade!
Birdwatching
The Radnorshire Wildlife Trust has a conservation lease on the Beacon Hill Common, and as such birdlife is abundant.  It is predominantly upland heath and retains a wonderful wilderness atmosphere rare in the UK today.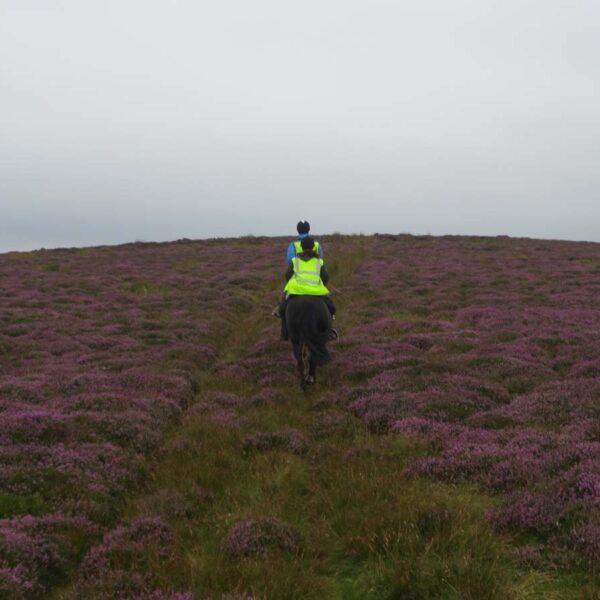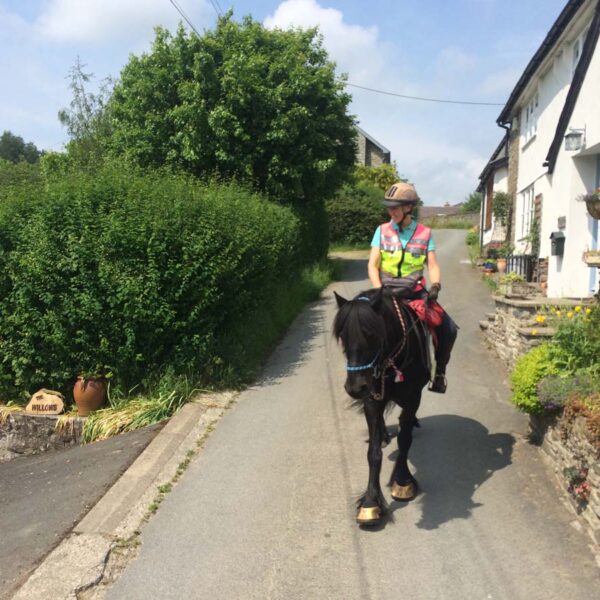 We love cooking and have a growing menu of tried and tested home cooked recipes for our guests. We source our food locally wherever possible and purchase the freshest ingredients. We cook to order so please do book in advance if you would like to eat in whether you are staying for B&B, Self-catering, or glamping or camping. As we are un-licensed you are welcome to bring with you whatever you would like to drink with your meal. If you prefer to eat out there is a choice of several pubs within the valley and further afield.
Great place Really enjoyed our stay here. We stayed in the glamping caravan and it was cosy with great views, set aside in its own little area. The owner we spoke to was friendly and helpful everytime we saw him. The firepit was a welcome touch in the chilly evenings, with the firewood topped up daily, with a decent range of size pieces to have a good evening fire. This cost extra but was well worth it. There are great walks starting literally from the site itself and there is a pub about 200 yards away that was warm and friendly. All in all, a great place to stay.
Excellent stay , very clean, wonderful atmoshere. Beautiful views. Peaceful place to stay right on the Glyndwr's way. Wonderful atmosphere. Very friendly and helpful hosts, and friendly guests. The Sycamore pod was cosy, warm and has a lovely decking area to sit and watch the ponies, listen to the birds, and watch the clear skies at night. Pod was very clean and sanitised. Eco toilet is very clean and near to the pods. The Radnorshire Arms , Beguildy serves excellent food and drinks. Dogs welcome outside itn the garden. The Wharf Inn at Felindre is a friendly local, 5 minutes walk , and has a large garden. Dogs welcome inside as well. Will be looking forward to returning for another visit to Brandy House Farm. Highly recommended.
emmalouise2018
01/10/2020
A very special place We were a group of 5 girlfriends with our ponies and stayed 3 nights self catering in one of the cottages. What an idyllic location, a beautiful tanquil hideaway with an interesting choice of glamping pods, stone barn conversions, farmhouse etc all thoughtfully laid out amongst lovely gardens. Our horses seemed very settled too, they were well catered for with stables and paddock options and unlimited good quality hay. Medina and Richard are fabulous hosts, very welcoming, happy to share local knowledge, nothing is too much trouble. This is an ideal location for a horsey holiday with miles of off road riding literally on the door step!
Simplicity, peace and beautiful countryside, with touches of luxury The situation is so lovely, half way up a hillside overlooking a beautiful valley. Total peace and quiet. The camping pods are cosy, and you can get breakfast delivered and light a fire in the evening. (They have Holiday cottages too.) Walking absolutely brilliant, from the doorstep. All simple, super-clean and well thought-out, with friendly hosts. Pub and excellent village shop 2 miles away in Beguildy. You can book an excellent taxi service from Knighton if you need it. I was very sorry to leave!
Mini Trip Stayed on this lovely farm for two nights August 8th-10th in The Willow Pod. My two children enjoyed the novelty factor of this accommodation which was lovely & plenty of room. Two fold down beds & two sofa beds for the kids comfy enough. Nice area to sit outside in too with a fire bin & wood provided at cost but you get plenty of wood for the money paid. Very friendly owners,nice & safe for the kids to play round the pod. Free WiFi on the bench. Really enjoyable couple of days would definitely return.
Fantastic relaxing stay. Stayed in the Barn End self catering cottage, with my partner & dog, and brought my horse too. Brandy House Farm has recently opened up after the COVID lockdown and the hygiene and safety measures in place were excellent, in the cottage and around the whole facility. Felt very clean and safe without affecting our stay at all. The cottage is lovely and we particularly enjoyed the beautiful relaxing garden. The countryside around the Brandy House is stunning and we enjoyed 4 days of off-road riding/walking. Thoroughly recommend.
Fabulous place, excellent hospitality I stayed at the B&B one night while walking Glyndwr's Way in 2019 and loved it! Absolute 5 star place. In fact, I loved it so much that I booked it again in 2020. Sadly, the Corona virus had other plans for us all. Even though the cancellation policy called for a non-refundable £10 (which is fair), the proprietors were nice enough to forgo it. That just a testament to their spirit of good hospitality. I hope to go back and thank them for that in person in 2021.
ramblingwhiterose
26/10/2019
Day 1 Glyndwr's Way A welcome sight at the end of the first day and downhill too. We took the b and b option and this was a lovely private ensuite room in the farmhouse. There are other accommodation options. Provided with welcoming cake and tea - I ate both pieces of cake - expanding waistline again. We stayed on an evening when meals were not provided at the farmhouse, but we were taken to the friendly Radnorshire Arms, where we had a tasty meal at an unbelievable price. An excellent breakfast was provided by Richard and it was interesting to hear about the diversity at Brandy Farmhouse and all that entailed. Thank you
High standard and peaceful location we rented (me, my Mum and my Husband) booked a self catering cottage for a week. the standard of the cottage is very high every thing we need was on hand. the icing on the cake has to be the Hot tub which is prepared for you by Richard and then you fire it up yourself on subsequent days. It was just glorious to sit in hot water and look at the surrounding country side, it was even great in the rain! The location is great for walking and visiting nearby places. there is a pub in the village open in the evenings (no food) but there is a lovely pub Radnorshire Arms not far away which does excellent food if you don't feel like cooking. Your hosts Medina and Richard are very welcoming and happy to help. They also cater for people who like taking their horses on holiday.
Outstanding B&B on Glyndwr's Way! Absolutely superb! We stayed whilst walking Glyndwr's Way and this was a perfect oasis at the end of a long hilly day trekking! Friendliest helpful service, wonderful comfortable stylish accommodation and the most delicious gorgeous homemade food! Offered cake on arrival then a 3 course dinner! I am vegan and had wonderful pea & mint soup with warm homemade bread for starter, three bean casserole and sides for main, then fresh fruit salad and vegan coconut yoghurt for dessert; my husband loved his creamy chicken dish too. Lovely breakfasts and excellent accommodation. Also super-impressed by the recycling/environmental ethics and values of the owners, even using environmentally friendly detergents, washing up liquid etc. Cannot recommend highly enough!